Who we are
Creating opportunities for economic growth and industry development.
Spirits & Cocktails Australia is an incorporated association with a vision of promoting a safe and vibrant spirits sector, which supports Australia's mature drinking culture and creates opportunities for economic growth and industry development. We represent spirits producers involved in the manufacturing, marketing and sale of spirits throughout Australia. Our industry directly supports over 5,000 jobs in 84 Federal electorates and supports a further 15,000 jobs from farm to glass, with our supply chain stretching from primary producers to the hospitality and tourism sectors.
Tax Reform
Tax reform to unleash our industry's potential and fuel Australia's COVID-19 comeback.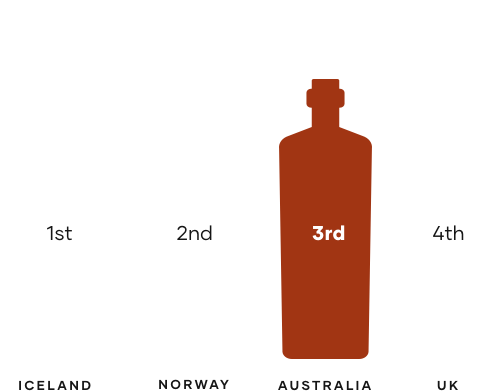 The third highest spirits tax 
in the world
The tax levied on spirits in Australia is the third highest in the world — only Iceland and Norway's are higher. Australia's spirit tax is 67% higher than the level in New Zealand, and 950% — 9.5 times — higher than in the United States.

Australia's spirits tax is outdated and unfair. Given many Australians are drinking less often and more responsibly, it is disappointing that the spirits tax hasn't kept up. The current high tax level continues to penalise Australians who choose to drink spirits.
A cost burden that just keeps growing
The spirits tax currently represents over 50% of many local distillers' overheads and represents a major proportion of costs for global manufacturers operating in Australia. What's more, the tax increases every six months.

After battling through bushfires and the COVID-19 pandemic in 2020, distillers have been hit again with the latest spirits tax increase of 0.9% in February 2021 – and it is expected to rise once again in August 2021.
Spirits tax reform will deliver a triple win: for Government, the industry and consumers
At a time when Australians need to feel optimistic about this country's recovery from the worst of COVID-19, few Australian industries offer as much promise as craft distilling.

In a joint Pre-Budget Submission, Spirits & Cocktails Australia and the Australian Distillers Association showed that resetting spirits tax rates can increase Government revenue, while providing a powerful kickstart to the domestic distilling industry's attempt to grow into a premium agricultural-based export industry.

Modest tax relief can also assist the hospitality and tourism industries in their recovery from COVID-19 and offer relief to the 62% of Australians who choose to drink spirits – all without significantly increasing the volume of alcohol consumed.